GORNATION Parallettes Construction
Welcome to GORNATION and thank you for your support. This page should help you build your GORNATION Parallettes for intensive training quickly and easily. Good luck with your goals! Your Team GORNATION
Before first use, make yourself familiar with all instructions regarding safety, assembly, operation, care and use. All instructions must be strictly followed, otherwise potential warranty or liability claims will become invalid.
- The product is suitable for sports purposes only.
- Maximum load: 300 kg per pair, 150 kg per single piece.
- Store in a dry, warm place and protected from environmental influences.
- Use only on even surfaces.
- Before each use, all components must be checked for safety.
- Before each use, all connections/screws must be checked and tightened if necessary.
- Only use when all connections are firmly screwed together.
- Any swallowable small parts must be kept away from children.
- Children may only use the product if their physical development is adequate and only under the supervision of an adult responsible person.
- Before each use, all visible parts must be checked for damage, cracks or erosion. Damaged or worn parts, as for example torn welding seams, are a safety risk. If the warranty is still valid, all damage must be reported immediately to the manufacturer or must otherwise be repaired professionally. Damaged parts must be replaced immediately. 
- In case of damage, the present product is not to be used.
- The manufacturer accepts no liability for damage resulting from improper installation, improper use or overloading of the product.
- The product must be assembled according to the instructions.
- Do not use any parts for assembling the product that have not been provided by the manufacturer.
- The product must be kept dry and clean for use and must be protected from all environmental influences. It should not come into contact with salt water.
- The product may only be used by one person at a time.
- The user should warm up sufficiently before use.
- A stable, safe stand must be ensured before starting.
- Exercises with one-sided load are not possible.
- Incorrect and excessive training can endanger health.
Disposal:
Please inform yourself in advance and make sure that the packaging or the product is disposed in an environmentally friendly manner in accordance with local and regional disposal regulations.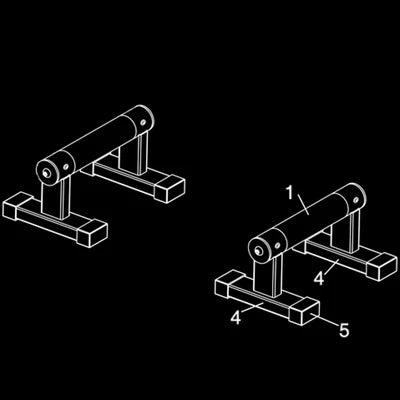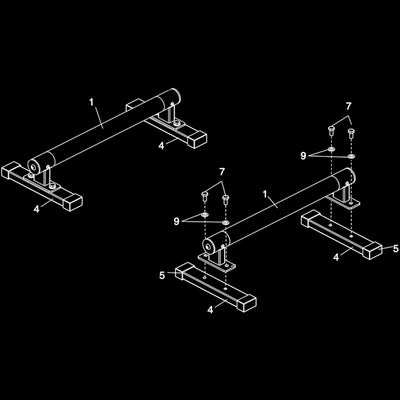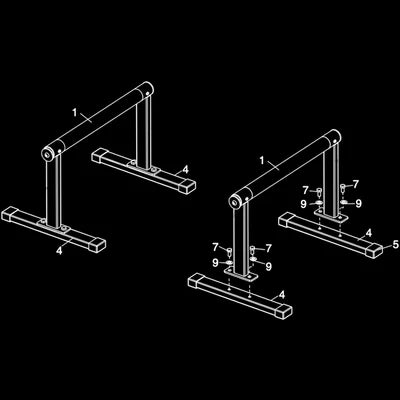 50 exercises for your training with the Parallettes for Beginner, Intermediate and Advanced.