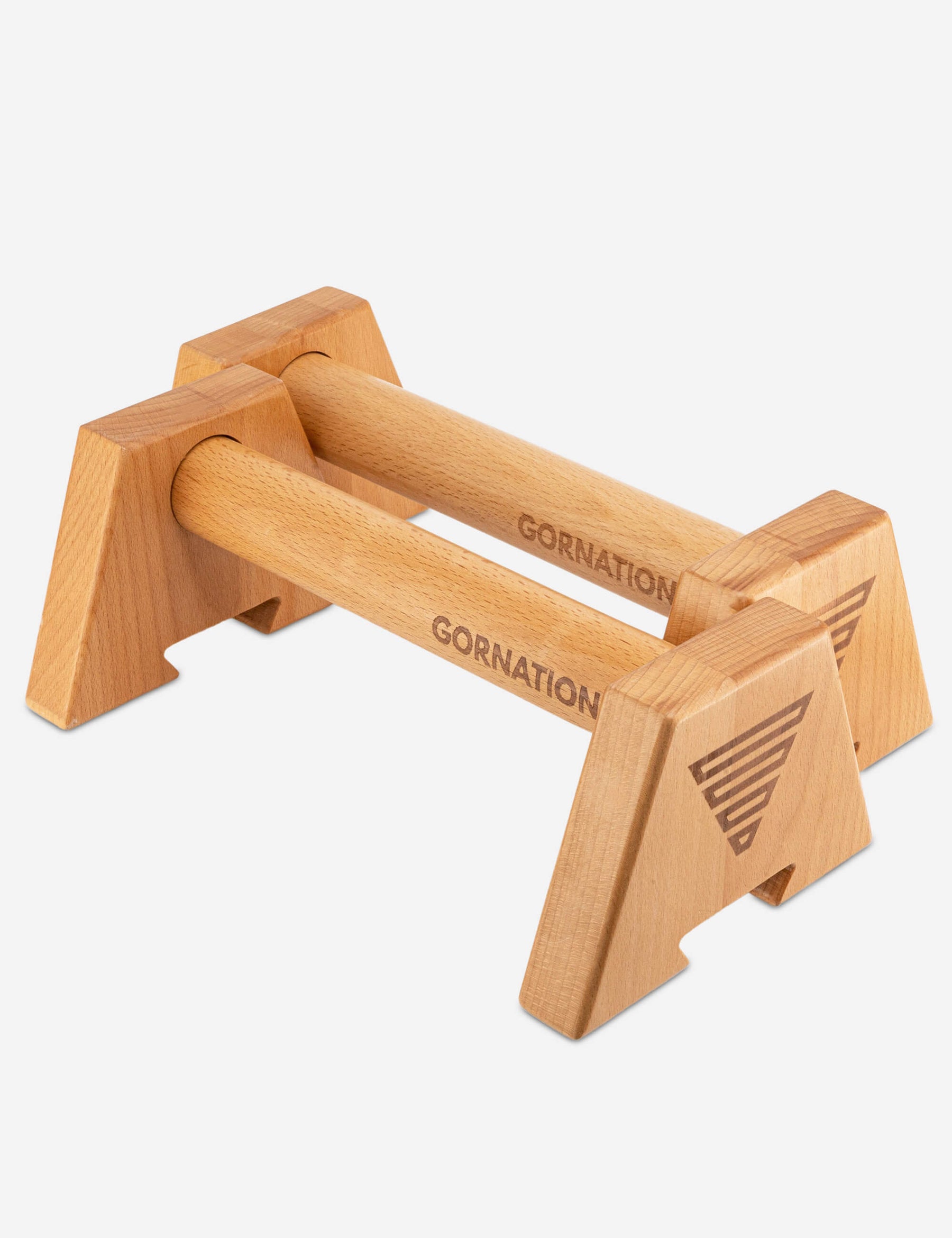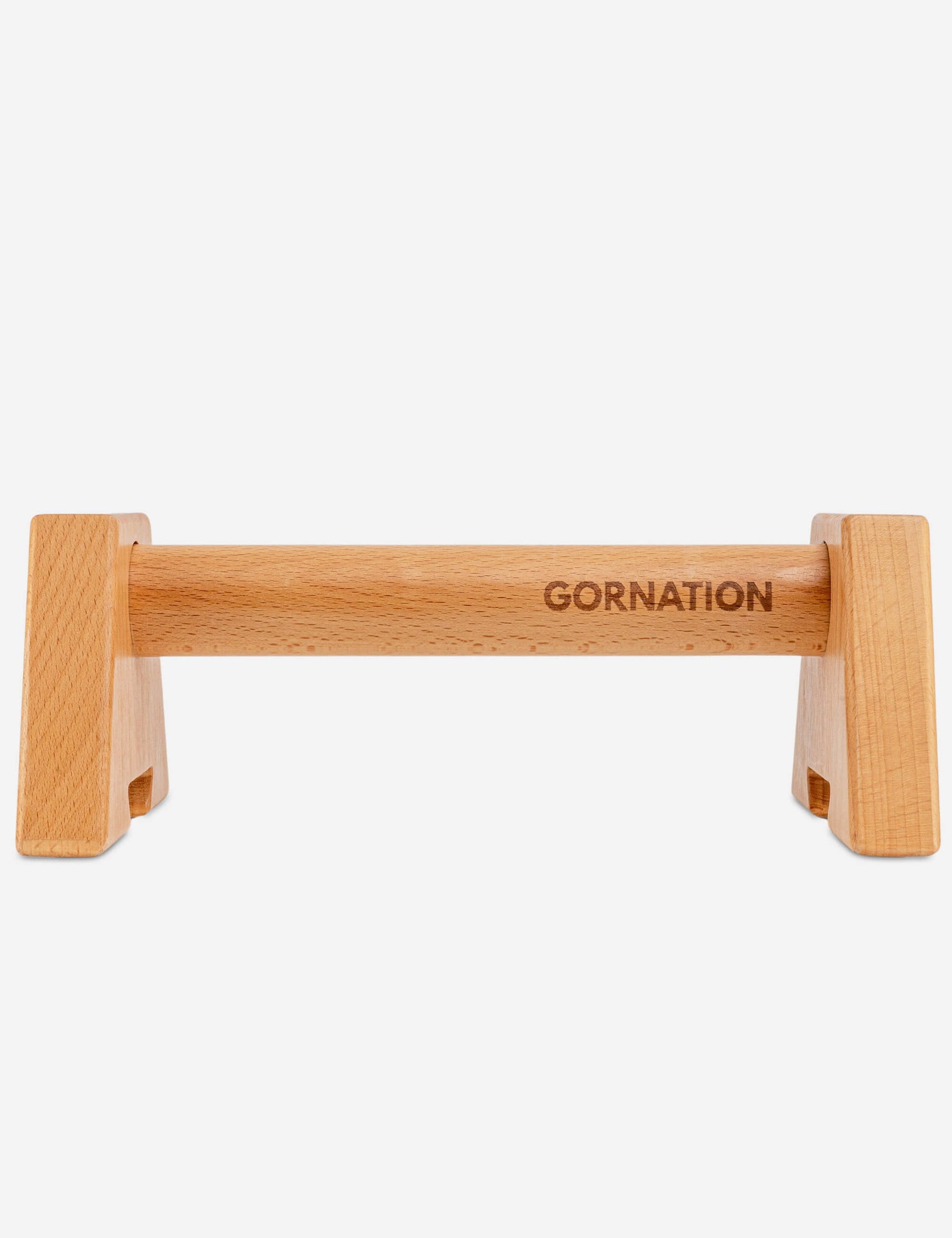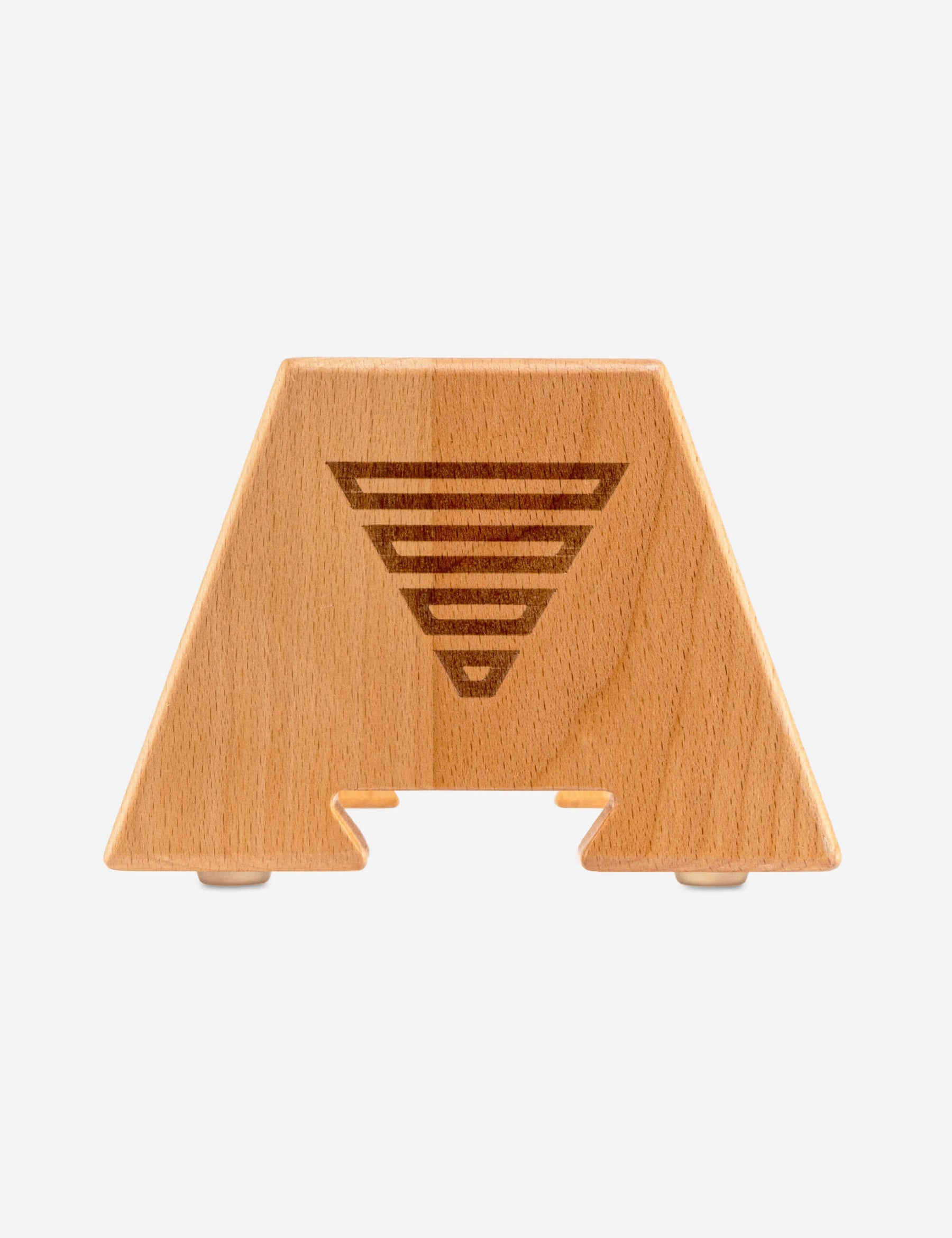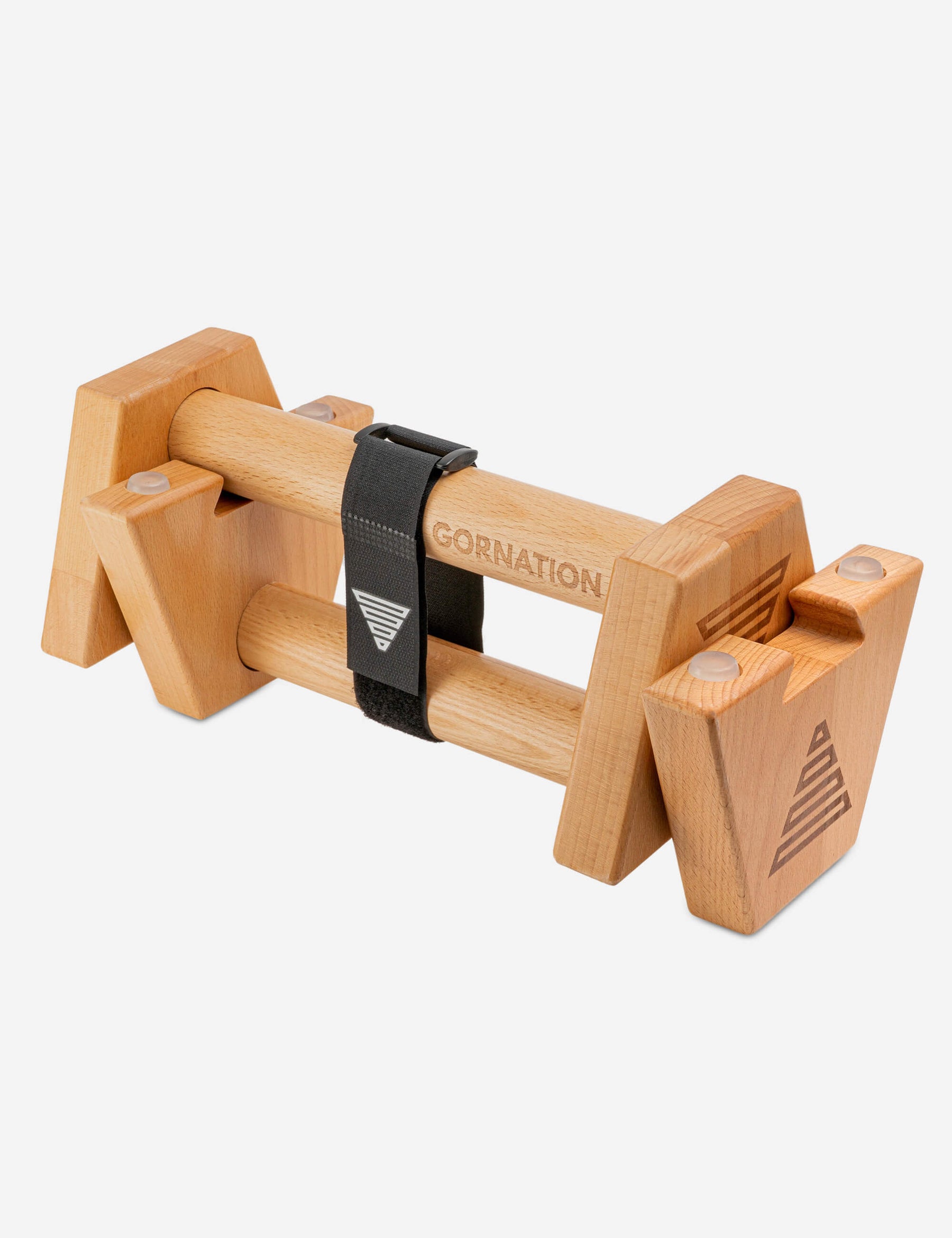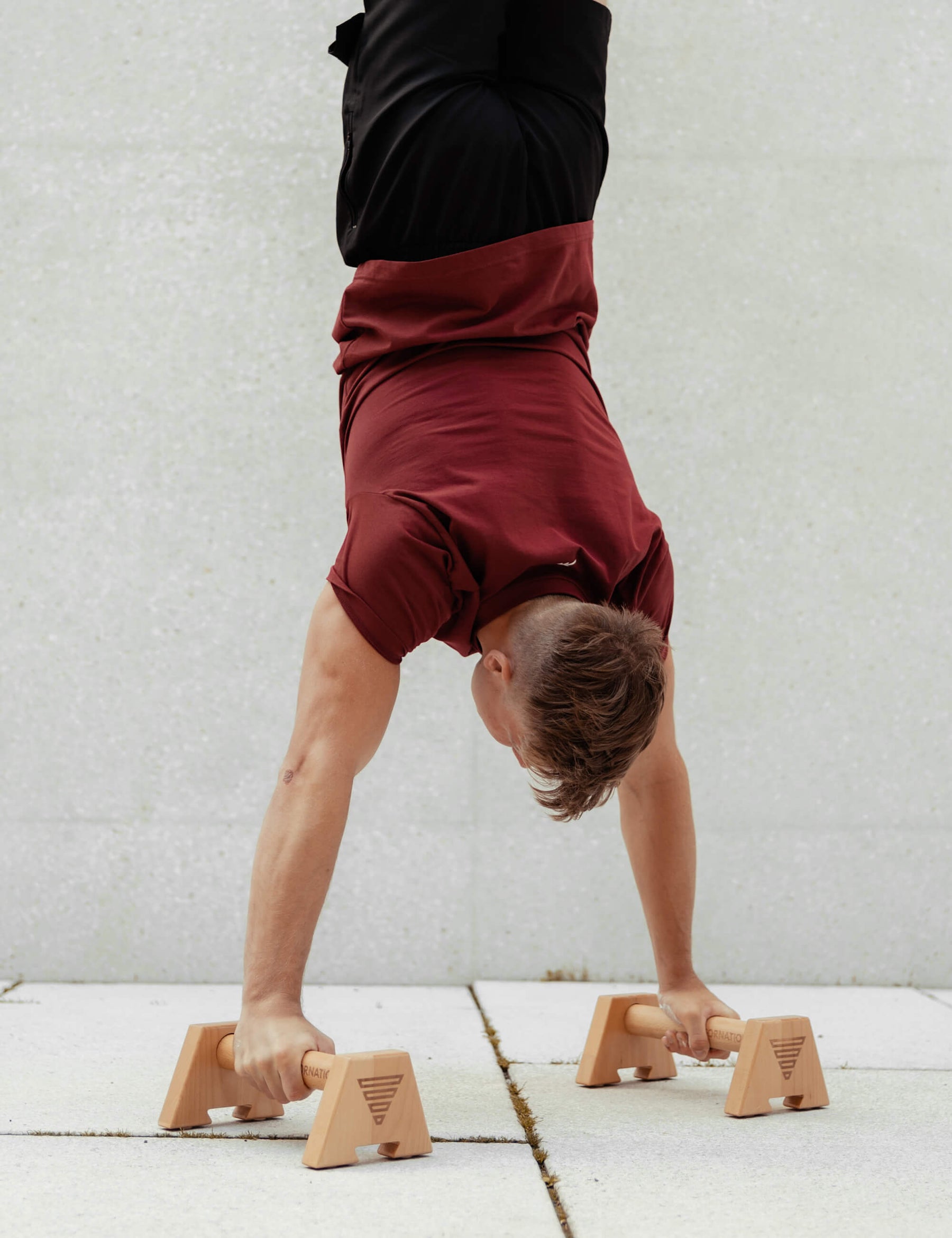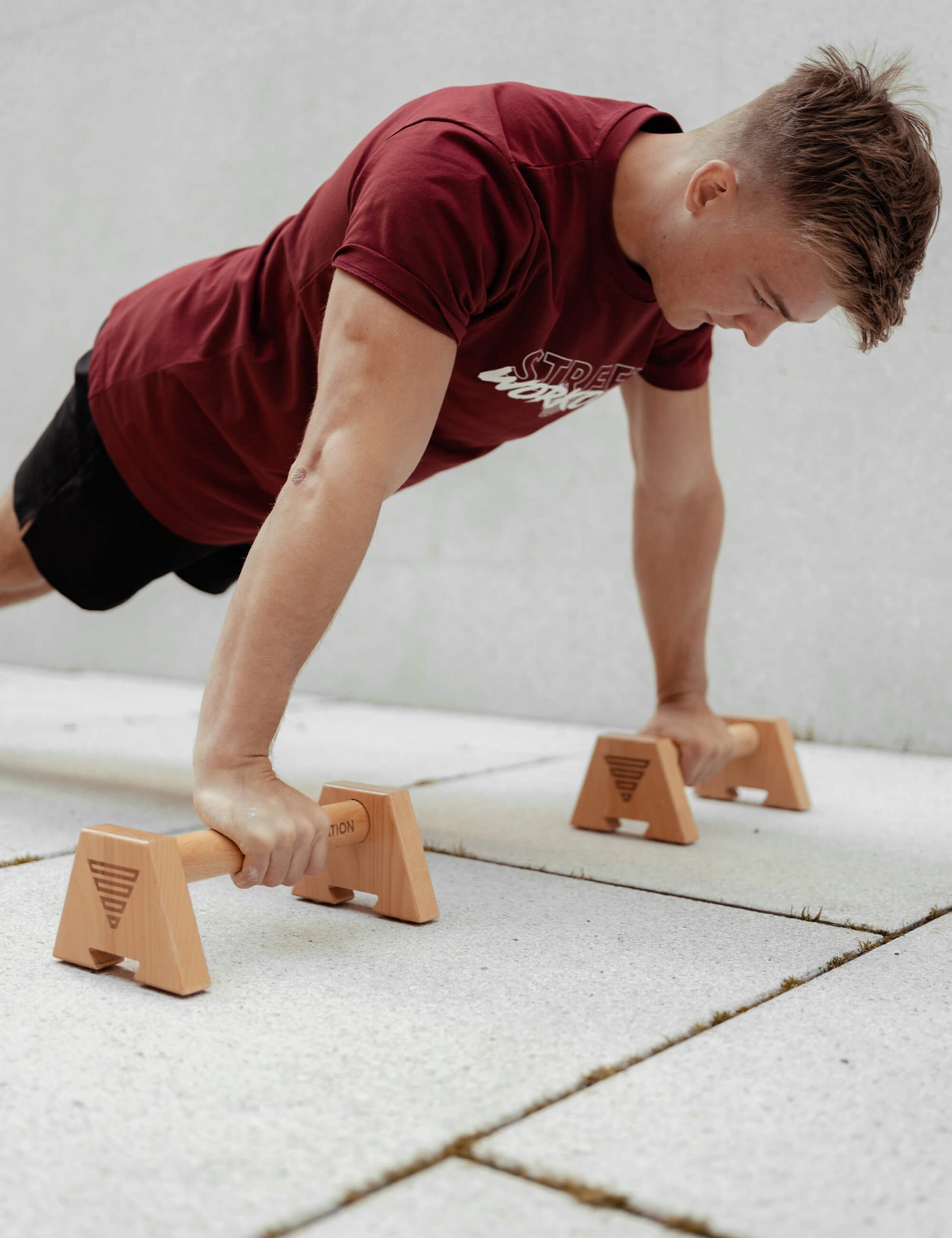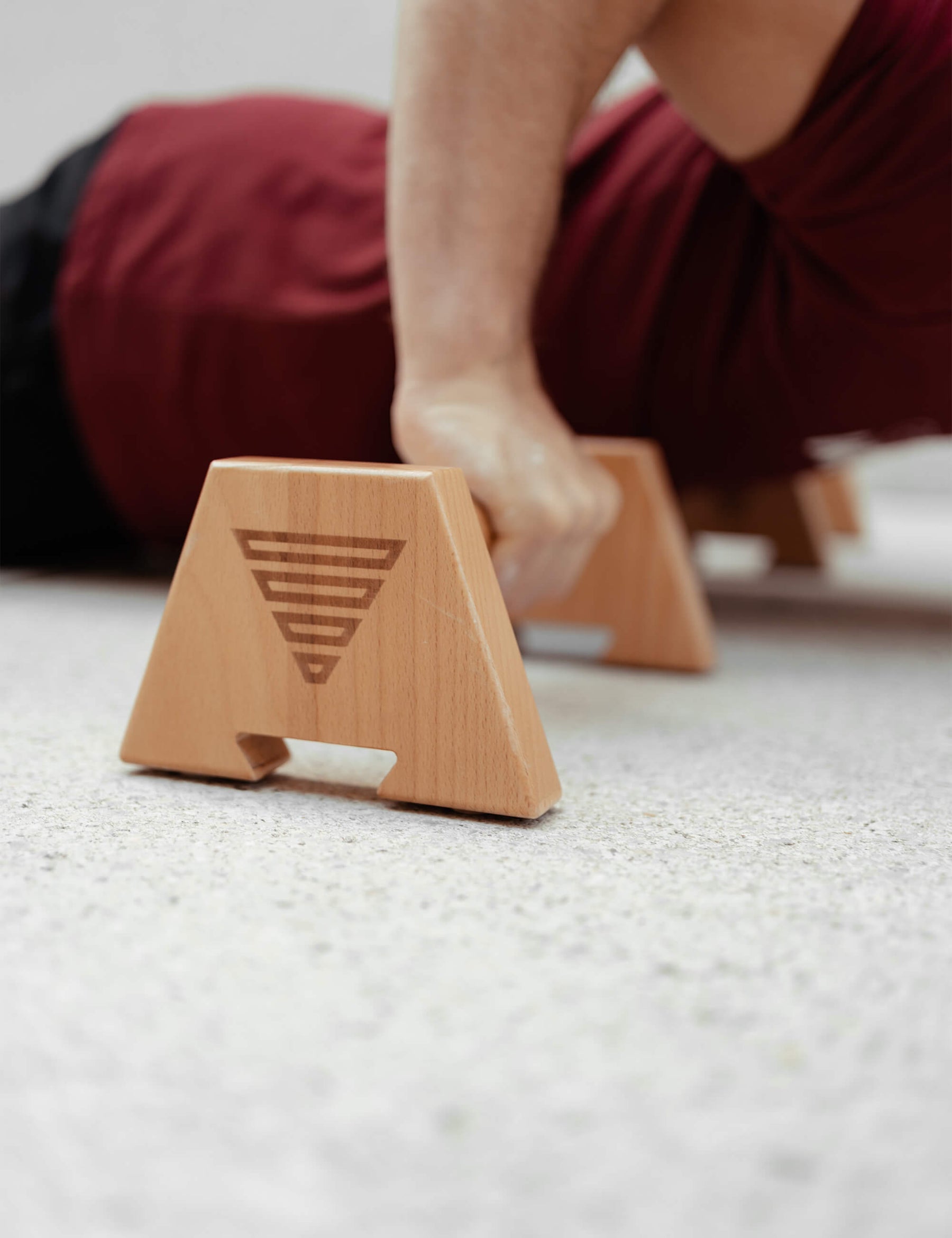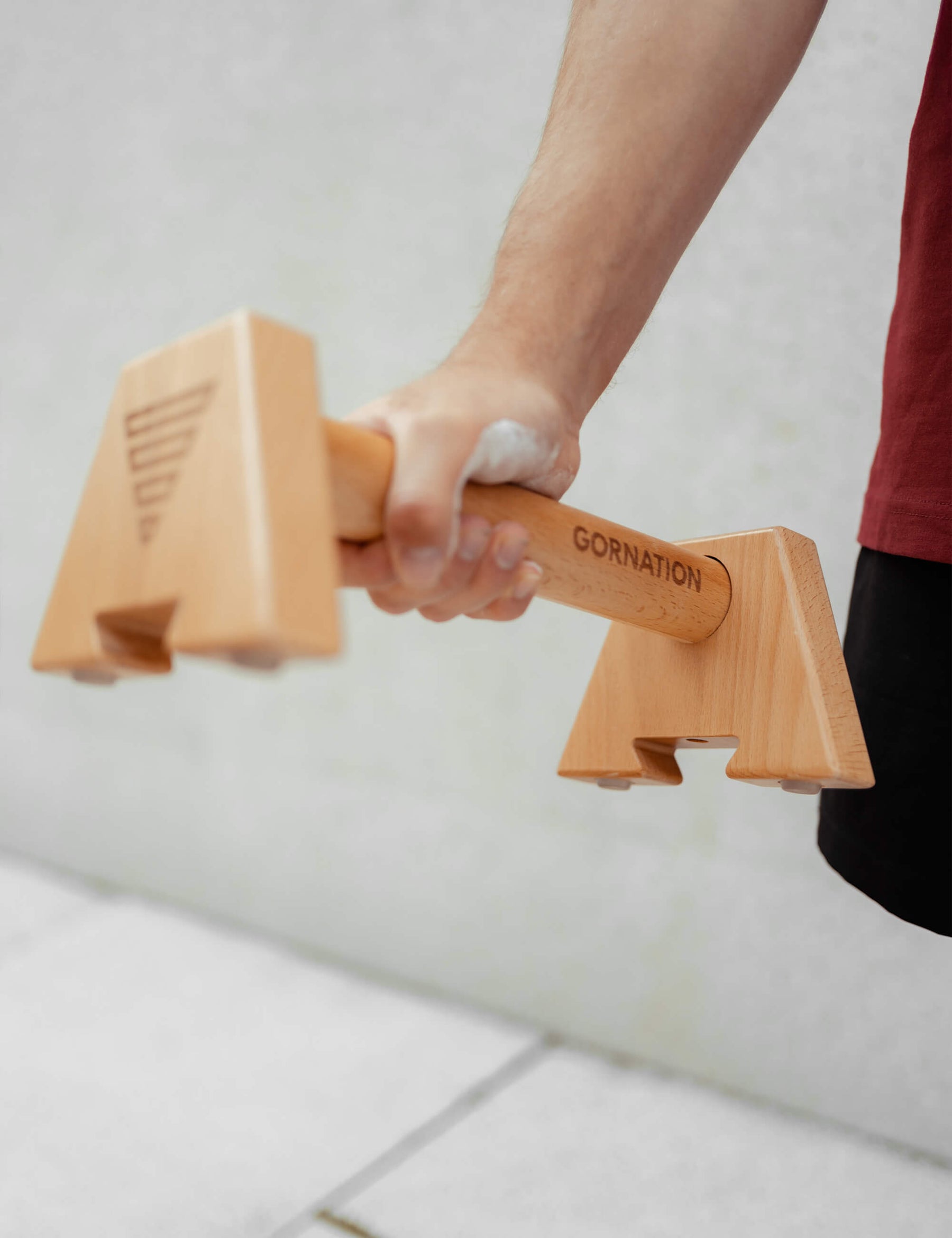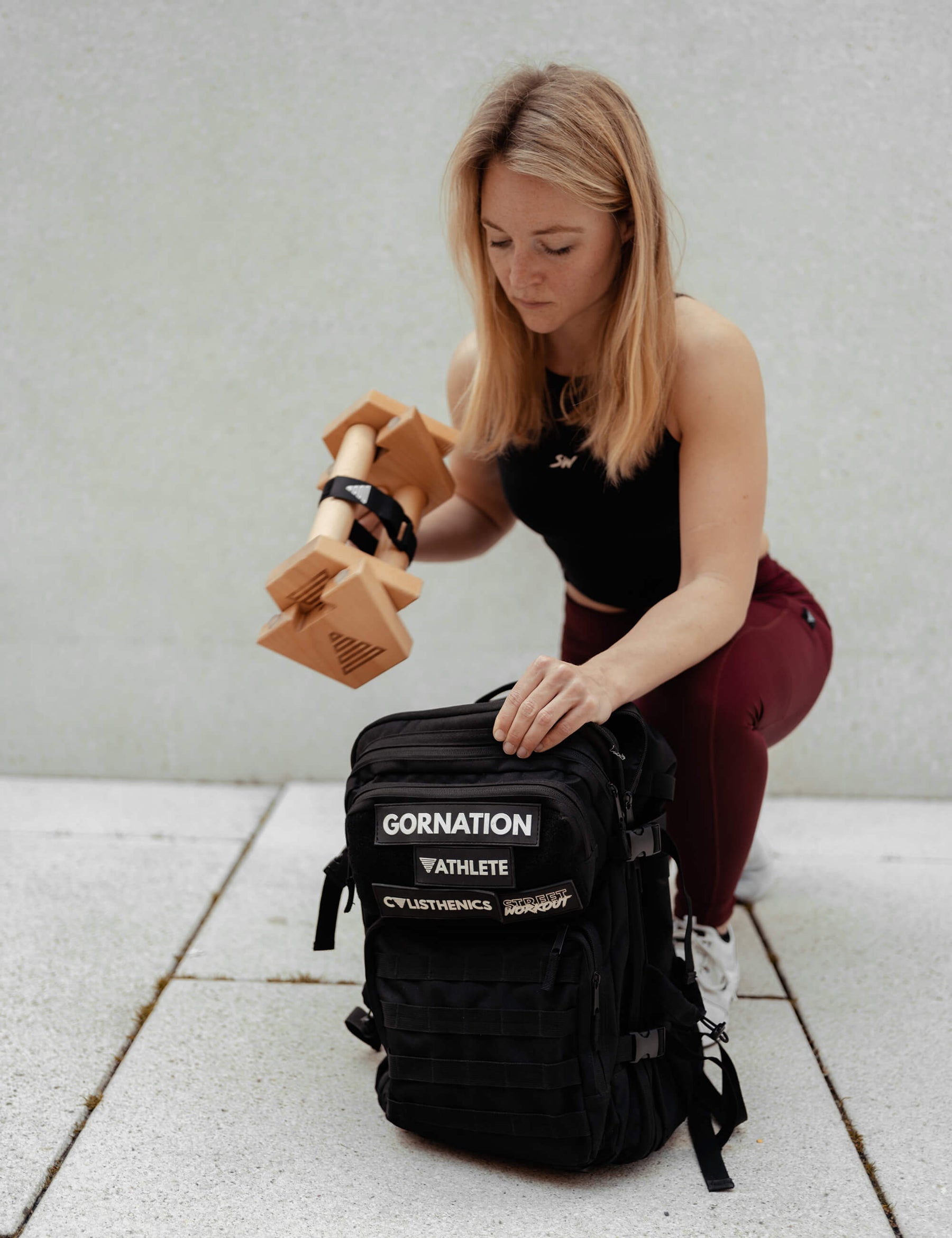 Wooden Parallettes Extended
Style:
Wooden Parallettes Extended
● High quality grip with solid wood construction
● Compact design with 30cm length
● Lightweight, durable and easy to transport
● Anti-slip rubber feet for safe workout

● Practical push-up bars to take along
● Experience the perfect grip while working out with high quality red beech wood
● Lightweight design makes them easy to carry and transport, perfect for workouts on the go
● Durable construction for a reliable workout partner
● Non-slip rubber feet ensure stability and safety during your exercises
● Laser engraved GORNATION logos for style and authenticity
● Material: Red beech
● Length: 30cm
● Height: 11,5cm
● Upper width: 8cm
● Lower width: 16cm
● Diameter of wooden handle: 40mm
● Clean the Parallettes with a damp cloth; avoid using chemical detergents as they may cause damage
● Store in a dry place and use a dry cloth to remove moisture, if needed
● Keep away from saltwater to prevent damage
● Clean the rubber feet regularly for optimum grip on the floor
● 2x Wooden Parallettes Extended
● 1x strap with Velcro fastener and logo for transporting the Parallettes
● 2x transparent anti-slip rubber feet as a replacement
● 1x assembly instructions and manual
Versatile, lightweight and complete for any workout!
DESIGNED FOR HIGH AMBITIONS
UPGRADE YOUR PERFORMANCE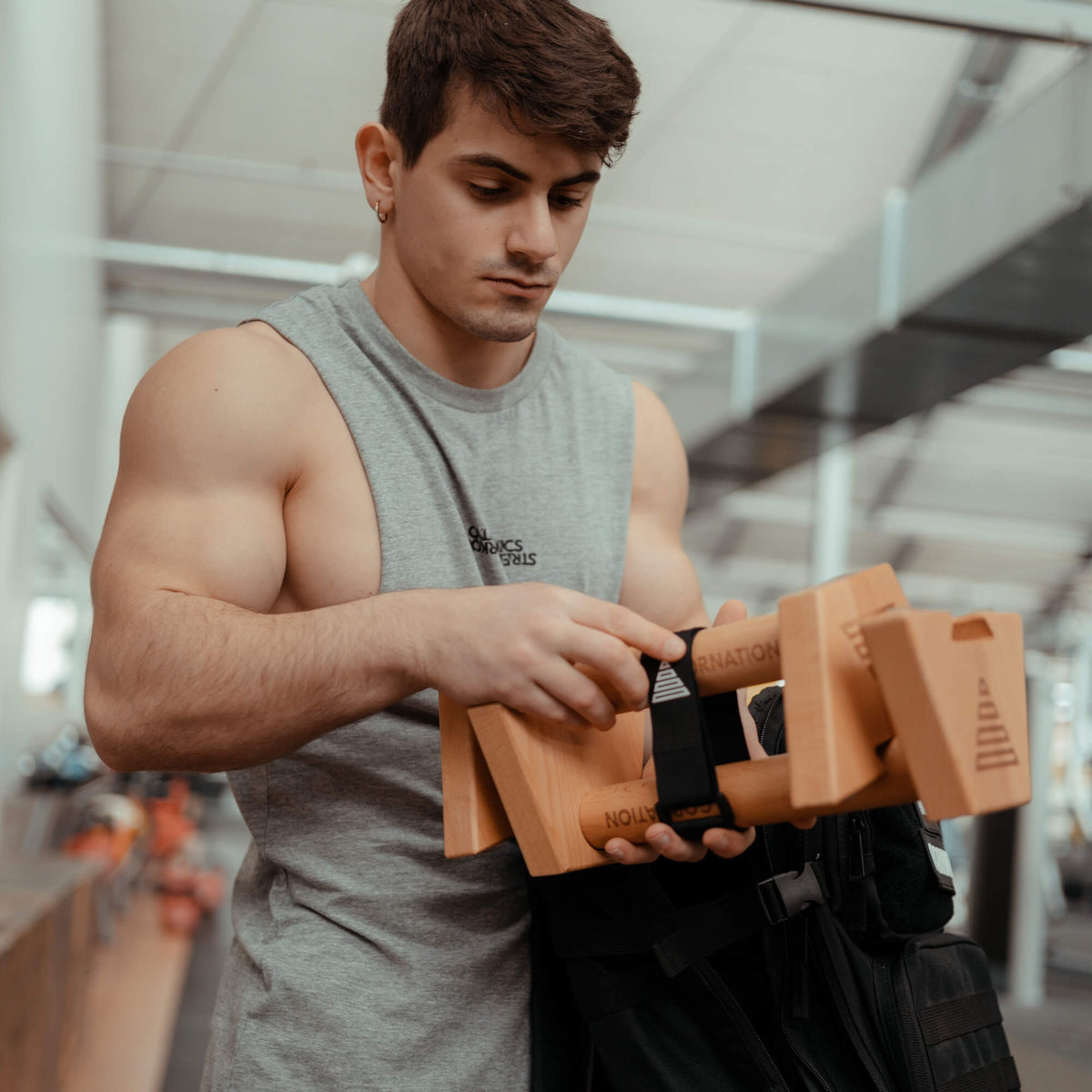 PERFECT GRIP ON THE GO
Experience the ideal grip and lightweight design, making these parallettes your go-to workout companion.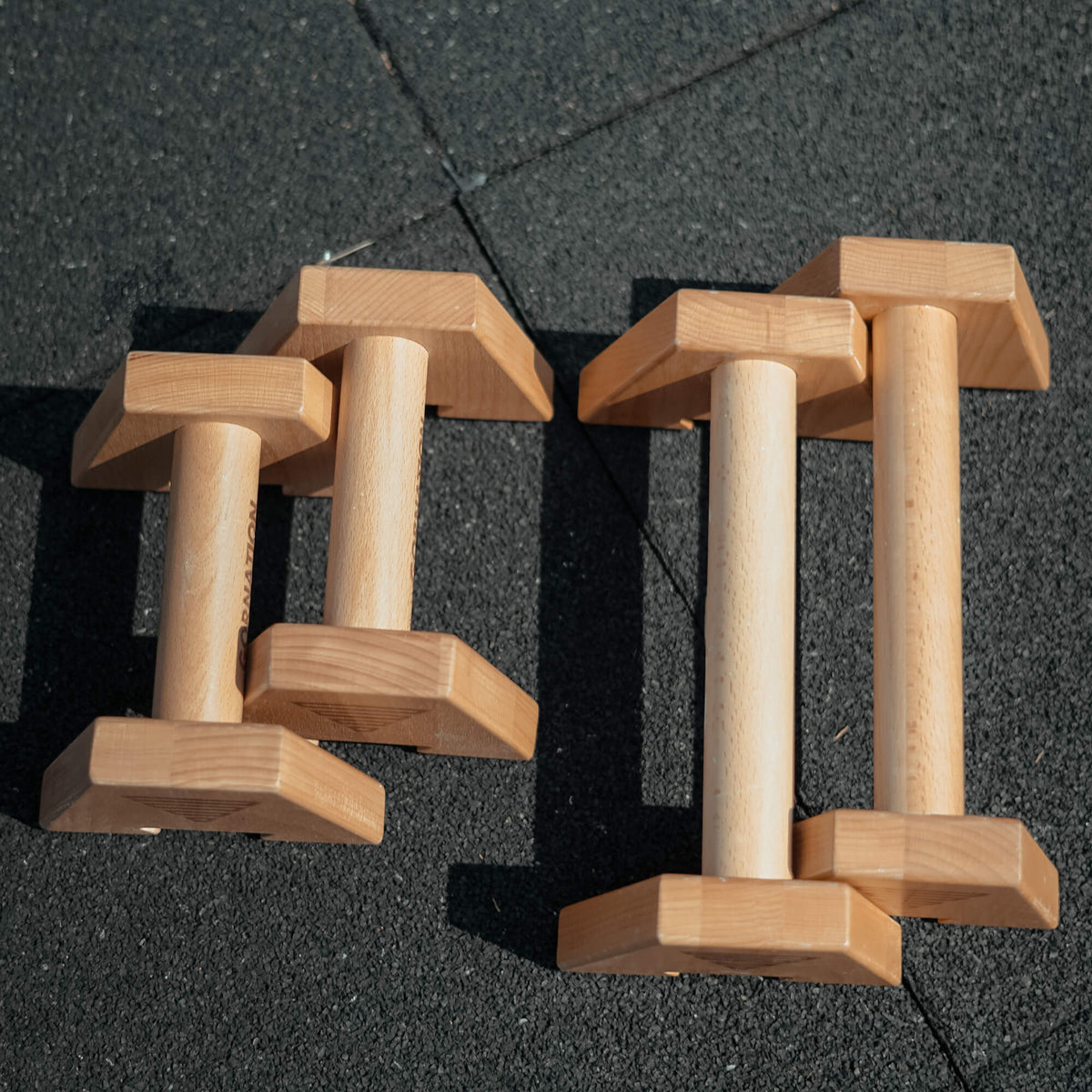 TWO STYLES, ENDLESS OPTIONS
Choose from Compact or Extended to fit your training needs and enjoy limitless exercise possibilities.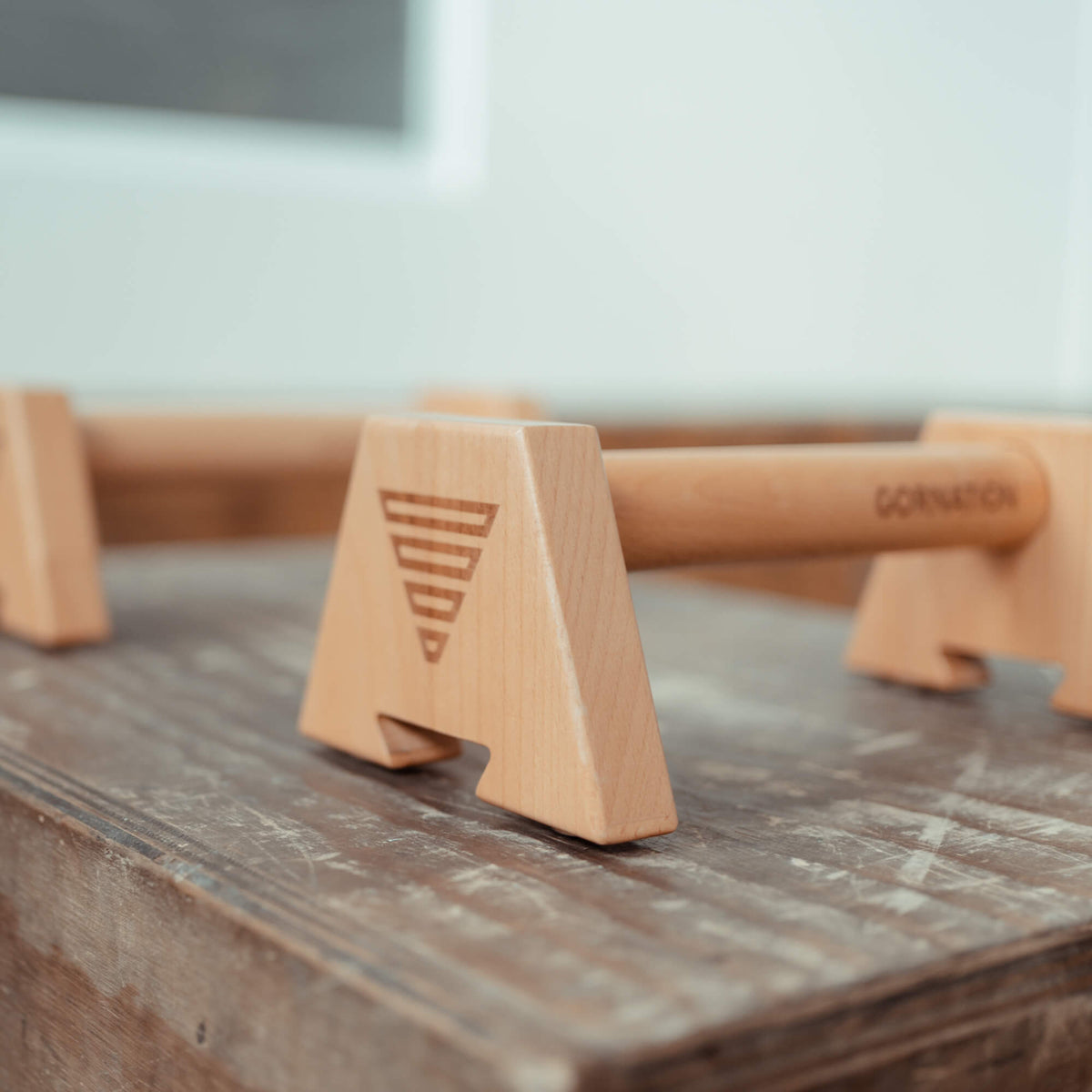 QUALITY CONSTRUCTION
Invest in high-quality Red Beech construction for reliable grip and long-lasting performance.
FREQUENTLY ASKED QUESTIONS
The GORNATION Wooden Parallettes are lighter and smaller than the GORNATION Premium Parallettes, which come with robust metal feet. The Wooden Parallettes are perfect for traveling and on the go with minimal requirements of space in your backpack.
The primary difference between the two lies in their length. The Compact Parallettes have a length of 20cm, resembling push-up grips, while the Extended Parallettes have a length of 30cm, more like mini parallettes.
The Wooden Parallettes support a wide range of exercises for all levels and body groups. You can perform push-ups, handstands, L-sits, planches, V-sits, planche progressions, and various other calisthenics movements.
Wooden Parallettes provide a more comfortable and natural grip compared to training on the ground, reducing the strain on your wrists during exercises. Additionally, wood absorbs the sweat from your hands, ensuring a more secure and non-slip grip during your workout than on metal parallettes. Wooden Parallettes also offer greater versatility and exercise variety compared to training on the floor.
No, the Wooden Parallettes come fully assembled.
Yes, the Wooden Parallettes feature transparent anti-slip rubber feet, providing a secure grip on various surfaces such as carpet, asphalt, sand, grass, wood and stone. Ensure the rubber feet are clean and free of dust or dirt for the best grip on the floor.
Yes, the Wooden Parallettes are suitable for outdoor use. However, it is important to store them in a dry place and dry them off after contact with moisture to maintain their durability and performance.
The Wooden Parallettes can support a weight of up to 200 kg per pair, ensuring a safe and stable workout experience for users of various body types and fitness levels.
No problem! You can return it within 30 days after receiving the shipment without needing to provide a reason. Just familiarize yourself with our return conditions in our returns portal.